The $66 Summer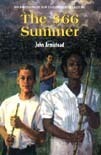 Intermediate Fiction

It's the summer of 1955 and George Harrington is thinking about the used Harley-Davidson motorcycle he'd like to buy. As the story opens, his grandmother offers him a chance to earn the money he needs.

Most of The $66 Summer takes place in Obadiah, the small town where George stays with his grandmother, working in her store and spending his off-hours with two friends. An unusual trio in 1950s Alabama—George is white; Esther and Bennett are black—they roam the countryside together, sneaking onto an unfriendly neighbor's land to go fishing and looking for lost treasure while avoiding the hooded old woman who follows them through the woods.

Conversation between the three often turns to Esther and Bennett's father, Staple, who mysteriously disappeared—some say he just ran off—four years ago. Solving the mystery of Staple's disappearance becomes the focus of The $66 Summer, forcing the teenagers to reassess their dreams and confront the racism that surrounds them.
From Booklist

It's the summer of 1955, and George's grandmother has hired him to work at her home in southern Alabama so he can earn money for a motorcycle. During the summer, 12-year-old George, who is white, reunites with two black friends, who work with George as a team to unravel a mystery underlined by racism and tragedy. The comfortably paced plot pulls readers in with plenty of intriguing characters, both despicable and poignant--among them, a disfigured old woman, a vicious attack-dog trainer, and a bewitching lunatic--who take on significant roles in the solid plot. Armistead is in expert control of both story and characters, and he creates emotional impact without sensationalizing or sentimentalizing the deeply sad, affecting events that have befallen the people in George's small town. Roger Leslie
Copyright © American Library Association. All rights reserved